For small- to medium-sized companies, Retention Wizard melds corporate level retention technology, research, and experience into an affordable, innovative software solution. The result is records retention becomes a resource, rather than a liability. Whether paper or electronic, a retention schedule is the right tool for legal requirements, managing cost, and risk for the lifetime of aging business records.
Record Retention Software
IRCH record retention software is designed as an easy-to-use system that assists in the financial record-keeping and evaluation of information governance. The business record-keeping software draws on proven methodology and legal research, utilizing IRCH's extensive consulting experience for developing records retention schedules in almost every industry. Our record retention software automates records retention and ensures legal compliance.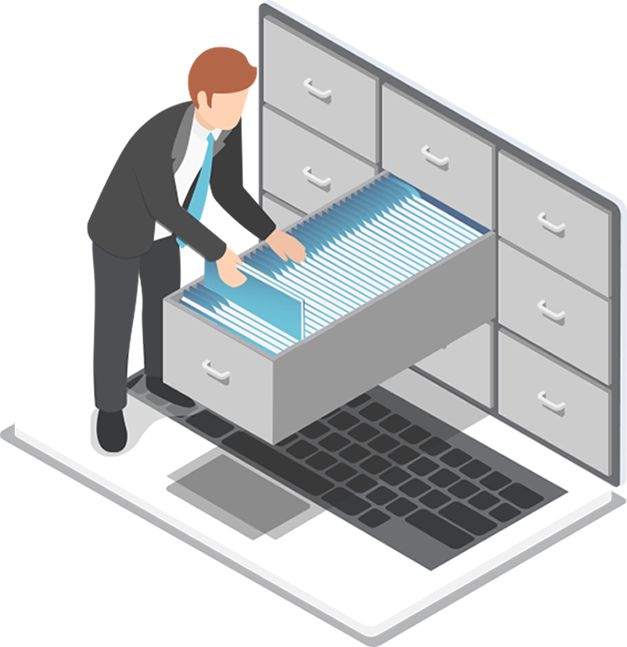 We are experts in the record-keeping industry and have developed the Retention Wizard software program to enhance your organizational ability to access and store information. At IRCH, we are confident that our record retention software can assist and support the effectiveness of document retention and reduce the risk with document destruction. Your Retention Wizard subscription provides regular software and legal database updates to government information policies for securing important documents for your organization.
In addition,  this legally-defensible, research-based retention schedule can be tailored to your organization in under an hour. IRCH does all of the work providing the retention results your company needs, leaving you the time to grow your business. IRCH understands that document retention is vital to an organization's security, and we strive to provide record retention software that protects information in a controlled setting. By developing and implementing policies within our Retention Wizard software, IRCH can reduce storage management costs, and mitigate risk associated with litigation and security breaches.
So easy!

It's a challenge for small- to medium-sized companies to find affordable, competent, experienced resources for retention information.
Enter Retention Wizard – an easy-to-learn, affordable resource that combines extensive legal research with business records. In less than an hour, your Retention Wizard software uses your input selections to assemble the research and records into a retention schedule with record types, retention periods, and supporting legal research, just like that! And it's updated regularly.
By using Retention Wizard, companies can create and implement a records program to organize, reference, and dispose of business records that are no longer needed.
Retention Wizard includes:

Over 400 industry standard records categories for building Retention Guidelines.

Expert legal research for US Federal and state levels updated regularly.

Each record category is assigned default retention periods with supporting legal research.

Legal research is drawn from the IRCH Records Retention Database populated with thousands of retention laws and regulations already reviewed, indexed, and assigned.

Industry-standard retention schedule report formats.

Research and software updates keep records retention schedules compliant and current.