The Dangers in Failing to Manage a Retention Program (Full Presentation)
The complete webinar presentation by Donald S. Skupsky, JD, CRM, FAI, President of Information Requirements Clearinghouse.  This is the second webinar of a 2015 IRCH online series presented on June 2, 2015.
The first presentation in the series, IRCH Methodology for Creating Legally defensible Retention Schedules, with transcript and presentation PDF, is available for viewing.
Please click here to download the presentation transcript.
Please click here to download the slide presentation.

[su_lightbox type="inline" src="#dngwb_video"][su_permalink]Please click here to view the webinar.[/su_permalink][/su_lightbox][su_lightbox_content id="dngwb_video" width="75%"][su_youtube_advanced url="https://youtu.be/XaoPuZb8X-s" controls="alt" showinfo="no" rel="no" fs="no" modestbranding="yes" https="yes" wmode="transparent"][/su_lightbox_content]
Portion of the presentation transcript:
…Today's topic is going to look at a variety of different issues. I wanted you to first get an idea of what I am going to cover. First, I want to make sure we're on the same wavelength. I know many of you know what a retention program and why we do it, but there's some key points I want to bring so we can better understand the problems of failing to manage that retention program so we have a consistent understanding of that.

…I want to bring in 2 other topics that relate to this topic, and one is managing retention program for an international organization. This has come up over and over, and it's a question, should we manage retention for everybody or should we just manage it for a segment of our organization? We'll explore that question.

Then we've gotten this issue of big data. I've gotten so many questions about keeping everything forever so we can research it forever. I want to make a few comments related to that, because this also is a question of not managing your information, keeping it forever, and not applying retention and what the impact of all of that is. All the topics do have some relationship, one to another. …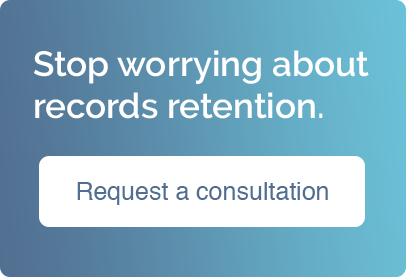 I am generally horrified by what is being written by attorneys who know absolutely nothing about records management issues. The presentation of the webinar, What You Need to Know and Do in Response to Changes in the Law, with transcript and presentation PDF, is available for viewing…